All about Eye Makeup Tips: brown eye makeup, and makeup for green and hazel eyes »
Introduction︱Tips & Techniques︱Green Eye︱Brown Eye︱Hazel Eye
Applying Eye Makeup
Eyes are the most prominent feature on the face which is if beautifully decorated with eye makeup change the entire personality dramatically. It will change the dull look to the glamorous ones. Follow given eye makeup tips to dramatically glow your face with different cosmetic looks and appearances.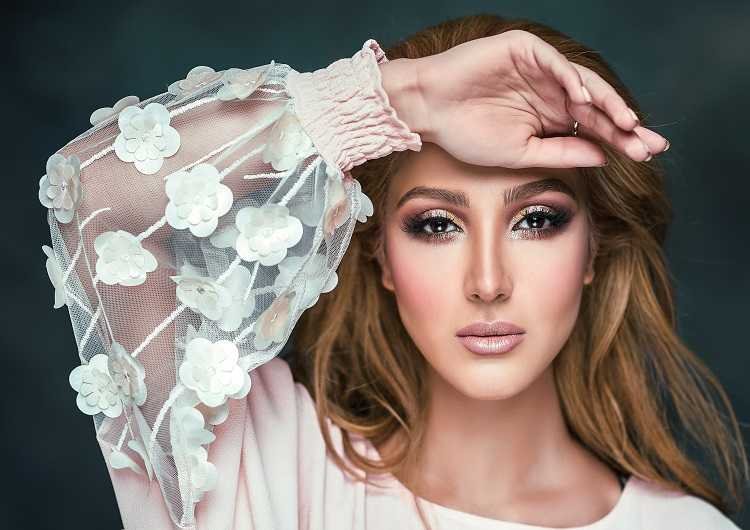 It seems to be a daunting process but few simple steps are required for the application of beautiful eye makeup:
Select the shades of eye shadows, eyeliner, and mascara to change the appearance of the feature and to make them pop. If you want the eye makeup for the evening then it is the best option to select the smoky eye makeup or select the shades in dark and brighter tones. These hues should be a compliment to skin tone, eye, and hair color.
The eye makeup texture also is selected by taking into consideration skin compatibility. The oily skin requires powdery or water-based eye makeup products. The creamy eye makes up suits the dry skin and gives it a glowing appearance.
Select the suitable tools for eye makeup, brushes with appropriate heads and bristles, sponge applicators, or just your own fingers.
Apply the base at the eyelid, it will be foundation, powder, light eye shadow or primer, or the combination of two or three of these.
The purpose of this to stick the makeup to the surface and give a superb smooth look to the makeup.
Apply the eye shadow in three tones, the light eye shadow at the entire lid and you may extend it toward the brow bone the darkest shade in the middle of the lid and crease. The medium shade from the lash to the crease of the lid to create the glamorous look the darkest shade is extended to the outer corner of the lid past to the end of the brow.
Apply eyeliner with a thin pointed brush along the lash line of only the top or both at the top and bottom lash line. It will make the eyes more popping up.
Apply mascaras but be sure that the liner gets dry. Before applying mascaras curl the lashes. The mascara is applied in single or two strokes with some gap in the application as the first coat dried completely before the second coat. Curling, lengthening, or solemnizing mascara are used according to desired looks.
Eye makeup tips to make your eyes pop
Want to make your eyes pop? Follow the below-given Tips to Make Your Eyes Pop.
Eyeshadow
Choose The Colors That Make Your Eyes Pop!!!
If you have blue eyes then arrays of blue and brown shades will bring out your eye in the best way. A combo of the two shades is also a nice idea. Those with green eyes can go for golden, purples, and glittery light brown shades.
If your eyes are hazel then purple, black or silver, brown shades, pink, and lighter neutral shades are the best options for you. If you are blessed with brown eyes then you can go for either charcoals, mauve, black, gold, gray, taupe, green individually, or the combo of these shades to bring out your eyes to make you look stunning.
Eyeshadow Application
Prepare your eyes for the application of make using an eyeshadow base or primer and a concealer. A quality concealer helps in camouflaging skin imperfection in eye areas such as dark circles. Then apply eyeshadow to the lids.
When it comes to choose the highlighter shade, go for an array of white shadows. Glittery white may be the best option for you. After the application of eyeshadow to the lids, brush a small amount of white shadow just under the brows and in the corner of your eyes. Drag it out below your lower lashes as well.
Eyeliner
Be careful while wearing eyeliner. Don't put it on all around your eyes as it will make your eyes look smaller. On the lower lashes, apply a thin line across your lower lash line starting from where the lashes begin extending towards the end of your eyes and at the end slightly flip it upwards.  In the same way, apply liner across the upper lashes as close to the lash line as possible.
Mascara
If you have never tried false lashes before, dare to try them. However, put them onto the only outer half of your natural lashes and fasten them with quality glue. Before applying mascara curl the lashes with a curler. It is wise to make the curler a bit warmer to get extra hold. Then apply mascara to the top and bottom lashes.
Before applying mascara to your lower lashes, do consider your eye type first as to some eyes it can render a dramatic glance but to some, it renders an even smaller look. Apply a single or double coating of mascara; double coating can make the lashes look even longer. For added glam, go for a colored eyeliner or mascara, such as green, dark blue, or purple.
Eye Makeup Tips and Techniques
Eyes that are with makeup seem to be superficial. If our spirits are in a low mood our inner beauty not to be impressive. At that time we need some exterior to get a connection with the interior. Get the exterior with impressive looks by coloring the windows of the soul in the right way.
It is recommended that beautiful eye makeup needs two eye colors. Light and dark to make the contrast. The lighter color establish the placements and the darker color draw the focus. By the professional views that if you have a wide set of eyes then the focus is toward the middle and inner corners of the eyes and vice versa if you have a close-set of eyes.
Go through some simple techniques as given below:
If you have close-set eyes then apply the off-white or milky pink shade at the ¼ of the upper lid starting from the inner corner. Now lift your chin upward in front of the mirror and apply the darker shade at the outer corner inwardly. Apply the eyeliner at the upper lid along the lash line.
Eyeliner used at the upper lid along the lash line or maybe at both lower and upper lids. Not use only the lower lid, it will drag the attention down and the eye looks squinting.
If you have wide-set eyes then apply the medium-light shade at the entire upper lid. Now with a soft fluffy brush apply the darker shade at the socket of the lid in the middle. Give strokes back and forth with the brush to the crease as half-moon in the middle of the eye socket. Move slightly towards the inner corner giving the tapered strokes. It will detract attention from the outer corners.
Techniques for the selection of colors:
If you have a pinkish skin tone due to complexion or skin sensitivity then avoid pink for highlighting.
If you are selecting dark contrasting shades then for accent color chose the color which is in contrast to your eye color. In this way the two colors your eye color and eye shadow colorwork side by side and intensify the eye looks. The contrasting color does not mean that both are entirely opposite to each other as if you have blue eyes you may choose grey shades with brown tint in them. If you have green eyes you may select the pimento brown which has a red tone in it that is suppressed by the brown shade in it.
By applying the above techniques you may have eye makeup more accentuating than before.
Eye Makeup Tips For Green Eyes
Eye Makeup Tips For Green Eyes – Green eyes usually very prominent and give very softer looks. Eye make-up tips for green eyes recommend warm traces in soft pink, peach, and apricot. They are natural supplements to green look great on eyes with green shades. A blend of soft pink with darker peach will create a deeper effect. Highlighting this wear a shimmery bronze will be awesome.
Alternatively, you can wear smokey eye makeup. Green-eyed splendors can look brutally marvelous by choosing a deep color that is darker than skin. Dark green colors enhance the natural shade of green eyes without overemphasizing them. Dark green can also be combined with murky charcoal gray to have an excellent Smokey-eyed look. Highlighting green eyes with metallic copper or bronze highlighter will give awesome effects.
Eye Make-up Tips also recommends popping green eyes with a trace of creamy to pick up the speckles in your iris. Here are two ways to have a clandestine look:
Mac Eye shadow in Green smoke – It's a gray-green shade that works best in Smokey makeup for green eyes. It is normally used on eyelids and in the crease area. Its application is followed by applying eyeliner and lash lengthening mascara.
Urban Decay Urban Ammo Eye Palette – It comes in ten astounding colors for achieving a diversity of looks. The colors are rich, penetrating, and sparkle in the moonbeam.
Brown Eye Makeup Tips
Brown eyes incline to be obviously profound in color and due to this one can wear darker colors in eye Make-Up for brown eyes. In case of any staining evoke to use make-ups concealed. Brown colors differ in shades so eye make-up tips for different shades will also differ.
Here we offer eye make-up tips for different brown colors.
Deep dark brown; This is the shadiest level of brown. In some females, this virtually looks black. Most eye makeup tips recommend hues that are in the moderate to the dark color range for these eyes. To avoid a too dark look it is significant to use the lighter specks of color in the eyes to choose acme colors to balance colors nicely.
Medium Brown; This color has the easiest eye Make-up tips. One can apply any color. Mauves, violets, and purples all look perfect on this. One can try the opposite as well and wear gold, copper, and bronze colors. Multiple colors can also be tried if searching for something different.
Light brown; Light brown eyes are unpredictably prominent.  Someone with golden streaks in eyes can try yellow as a highlight. Many eye make-up tips caution about overemphasizing brown shade. The use of darker shades in the crease area should be very limited. The dark brown shade is best for eyeliner.
Hazel Brown; This is the lightest color of brown and eye make-up tips recommend the use of a slightly darker color than your normal skin shade. Champagne and mauve colors will be the best choice. One will have an outstanding look if these colors are used in combination with violet, bronze, or dark brown.
Makeup for brown eyes depends upon the type of look.
The brown eye color is the most common eye color. Though it has a wide range of shades from dark to light brown, this is a very exotic color and is very expressive. At this tone, a great array of colors suit all these shades. The use of shades with brown eye color depends upon the type of look you want a subtle look the shades used are champagne, peach, or light pink to give a wider appearance to the eyes and open up the feature.
The brown eye color is common among many. Though it has a wide range of shades from dark to light brown, this is a very exotic color and is very expressive. At this tone, a great array of colors suit all these shades. The use of shades with brown eye color depends upon the type of look you want a subtle look the shades used are champagne, peach, or light pink to give a wider appearance to the eyes and open up the feature.
For the nighttime functions apply the intense indigo or purple shades. The eyeliner used is in black or darker shades from subtle contours to heavy contours. Mascara and lashes no doubt add much to the beauty of these brown eyes.
Day time eye makeup tips for brown eyes
If you have pretty brown eyes and want to go to the office then the following tricks add to their beauty. Apply the foundation or primer in matte shades that will match your skin tone. Apply the neutral shade at the lid first. Then apply the subtle shade at the area below the brow line to the lash line. If in the rose family, choose peach or light pink, or if in the brown family, bronze or caramel. Then uses the eyeliners in brown shades and at the end apply the lashes with a coating of mascara.
Nighttime eye makeup tips for brown eyes
For night time use all the shades of dark tone that match your skin tone and hair color. These will give them a more sultry and dramatic look. Use heavy foundations and blend it well. First, apply the shimmer shades and then a darker hue, like mocha or dark purple to highlight your crease line. Blend it with the earlier neutral shade and line the whole of your eyes, upper and lower lids, with black eyeliner. Apply the heavy coating of mascara in the black shade to give the fabulous look.
With this brown eyes makeup, you will certainly catch the love of viewers.
Eye Makeup Tips for Hazel Eyes
Hazel is beautiful eye color. Its eye color is common among American or European people. Few things can be done when it comes to brightening or popping up the hazel eye. If you want to bring out your eyes, we suggest you bring some alterations to your wardrobe and makeup rather than using contact lenses or changing your eye color.
Follow the given eye makeup tips to bring out hazel eyes.
Eyeshadow
Knowing about the makeup type that suits you the best is the most important thing. Be careful while choosing the makeup colors for your hazel eyes as some shades clash with the hazel eyes while some others work well to bring out your natural eye color. It is advisable to anchor to neutral eyeshadow tints such as an array of deep-brown or green shades. Remember, too bright colors are not developed for enhancing your eyes. Earth shades can also be good options for you.
Lipstick
When it comes to lipstick shades, a frosted look created with natural colors is the best look for your eye color. It suits women of any age.
Eyeliner
Apply the liner across the top and bottom lash lines. If green tint is more prominent in your hazel eyes then you can use white purple eyeliner for outlining your eyes as well as enhancing their brightness. However, if your hazel eyes are more brownish then a black liner is best for you.
Hair Color
Highlighting your hair with appropriate and best-suited colors also contributes to bringing out a glow in your eyes. If you have hazel eyes with a more brownish touch then you can opt to do brown highlighting in your hair for bringing out the natural color of your eyes. Red highlights also go excellent with hazel eyes.
Color of Attire
Sport those colors that perfectly go with your natural eye color. Add purple, violet, browns, and greens to your attire.
Source
http://www.eyemakeuptipsforblueeyes.com/
---
YOU MAY ALSO LIKE 
How to Choose the Best Colored Contacts for Your Eyes?
Smokey Eye Makeup Step-by-Step DIY Tutorials
How to Make Your Eyes Area Wrinkle Free
How to Make Your Eyes Look Bigger with Makeup
How to Find the Best Eyeshadow for Your Eyes
How to Get Thicker and Longer Eyelashes
Natural Eye Makeup Tips for Beginners
---
Popular Health Categories You Might be Searching For
---
Health Kura is a health website created for free health tips, updates, medical notes, and health news. The website does not provide medical advice of any kind. The contents are only for educational purposes.
If you have any complaints, suggestions, or useful information about the content on this page or elsewhere on Health Kura, please feel free to contact us.
Health Kura regularly publishes health content. If you want to receive health tips, updates, news, offers, and bonuses, please Subscribe to our Newsletter. 
---