How to pick the right glasses frame for my face?  What glasses suit my face? Today's topic is all about the type or style of glasses for face shape: Glasses frames for round face, square face, an oval face, an oblong face, triangular face, diamond-shaped face, and other face shapes for both male and female.
Face Shape︱Oval Face Glasses︱Round Face︱Heart-Shaped︱Diamond︱Square︱Oblong︱Inverted Triangle
Best Style of Glasses for Face Shapes
Have you ever wondered why some glass frames look amazingly attractive on display in the optical shop and on your friend's face, but not so good when you try them on? Well, everyone's face shape is different and some eyeglass frames only look good in specific face shapes. So, it's good to try different eyeglasses for different face shapes.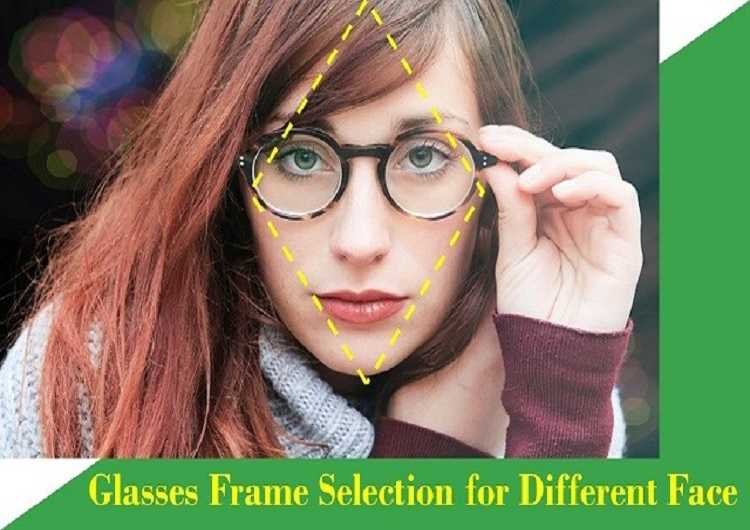 We will give you our favorite tips to find the best frames for your face shape. So, whether your face is round, square, or oval, we will find the best frames for you. First things first you need to know what face shape you have.
What is My Face Shape?
Do you know exactly what type of face you have? Well, to get an idea about your face shape, just pull your hair away from your face and look straight at the mirror. Take time and analyze the overall structure, shape, and outline of your face.
Note the widest part of your face (cheeks, forehead, or jawline). Draw the contours of your face and head with a dry erase marker, a bar of soap, or some lipstick in the mirror.
Likewise, you can also ask your friend or family member to get an idea about your face shape.
We will discuss the seven primary face shapes and the frame shapes that suit best on each face shape. You can compare your face shape drawn in the mirror with the face shapes we discuss below and get the idea of which shape of frame looks perfect on your face.
Whether you are looking for reading glasses or picking for sunglasses, or prescription glasses, the same principles apply.
Type of Glasses Frames for Face Shape: Different Glasses by Face Shape
Oval Face
In an oval face, the widest part of your face is the forehead. The width tapers towards the chin. A long face with a rounder chin is a common feature in oval face shape.
The oval face shape (long face shape) is the ideal face shape for the glasses frame selection because of its fairly balanced proportions.
Best Style of Glasses for Oval Face Shape (female and male)
You are lucky about frame selection if you have an oval face because almost all spectacle frame shapes suit your face. You can choose nearly any frame style.
However, to maintain the natural balance of oval face shape, we'd recommend going for frames that are a little wider than the widest part of your face.
Softly rounded with evenly proportioned frames (slightly oval eyeglasses frames) are the best choices for both men and women with the oval face shape.
Also, walnut-shaped frames perfectly match such faces because they are neither too narrow nor too deep.
Round Face
You have a round face if your cheeks are the widest point on your face and the length and width of your face are almost equal.
Best Type of Glasses for Round face (female and male)
The eyeglass frame should make your face appear thinner and longer. So, always choose angular narrow eyeglass frames to elongate the appearance of your face.
It means square or rectangular glasses frames are the best choices for the round face. Also, consider choosing a frame with nose pads, and bold colors, or patterns. Avoid round glasses and small glasses for a round face shape.
Heart-Shaped Face
Those with heart-shaped faces are characterized by the widest area at the forehead and gently narrowing down towards the jawline and the chin with soft features. If the chin is more pointed then it is a heart-shaped face or triangle-shaped face.
Best Style of Glasses Frame for Heart-Shaped Face (male and female)
To reduce the apparent wideness at the top half of the face, choose frame shapes that are a little wider than your forehead. Frames with very light colors and materials and rimless frames with light airy effects also are better choices.
Upswept styles like cat eyes, rectangular, and retro square frames also suit the heart-shaped faces.
Diamond-Shaped Face
This is the rarest of all. Diamond face shape is characterized by parallel narrow eyeliners, and narrow jawlines with broad, distinctive cheekbones.
Type of Glasses for Diamond-Shaped Face (male and female)
To compensate for the angular features of your face, focus on frames with angular, edgy elements. This helps to soften the appearance of cheekbones and helps to focus attention directly on the eyes.
Try to avoid narrow frames and frames with narrow edges, as they will make your narrow eye line apparent. To add a stylish touch to your facial structure, choose frames with heavy edges.
Square Face
If your face has almost equal width and length and has a strong jawline and a broad forehead, then it's a square face. Here, the face is shorter with all three points (forehead, cheeks, and jawline) nearly equal in width.
Type of Glasses for Square face (male and female)
To compensate for the boxy appearance, and to make the face look longer, choose narrow frame styles; frames with more width than depth. Narrow oval frames also suit the square face shape.
Similarly, glasses frames with hinges located above eye level help to lengthen the face appearance. You can also go for frames with temples and a bridge located near the middle of it.
Oblong Face
If your face is longer than it is wide and has high cheekbones, a long nose, and a tall forehead, then it is an oblong-shaped face.
Style of Glasses frames for oblong face shape (male and female)
if you have an oblong face shape, choose frames to make your face appear wider and shorter. To make an oblong face more balanced, try frames that have a top-to-bottom depth.
Always choose frames with decorative or contrasting colored temples to add width to the face or a bridge located near the middle of the frame to shorten the nose.
Inverted Triangle Face
The face shape with a very wide top third and small bottom third is the inverted-triangle face.
Best Glasses for Face shape: Inverted-Triangle (male and female)
always choose frames to make your forehead look narrower and to add width to the jawline. Aviator and "bow tie" shapes are good as they angle outward at the bottom.
Likewise, the rectangular frame also suits the inverted-triangle face. To balance facial features, choose frames with a temple and bridge located near the middle of the frame.
Eyeglass frame colors
The best eyeglass frame colors for warm skin tone are: camel, khaki, gold, copper, orange, peach, coral, off-white, fire-engine red, warm blue, and blond tortoise
The best eyeglass frame colors for cool skin tone are: silver, black, blue-gray, rose-brown, plum, magenta, demi-amber tortoise, pink and jade.
Sources
What is my face shape? How to determine your face shape once and for all [View]
Glasses Frame Shapes [View]
---
You May Also Like Warning signs that you need glasses
---
Popular Health Categories You Might be Searching For
---
Health Kura is a health website created for free health tips, updates, medical notes, and health news. The website does not provide medical advice of any kind. The contents are only for educational purposes.
If you have any complaints, suggestions, or useful information about the content on this page or elsewhere on Health Kura, please feel free to contact us.
Health Kura regularly publishes health content. If you want to receive health tips, updates, news, offers, and bonuses, please Subscribe to our Newsletter. 
---